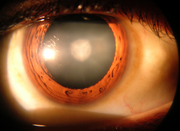 Cataracts
are a clouding of the lens of the
eye
that result in the slow and gradual loss of vision. They are a combination of several factors including age, denaturing of the
proteins
of the lens,
genetic
predisposition and exposure to ultraviolet light or high altitude radiation.
Treatment is with surgery to remove the cloudy lens and replace it with an artificial lens. Although the surgery has a very low complication rate, it is usually not performed unless the cataract interferes with vision.
Left untreated, cataracts will generally progress until vision is completely lost. It is one of the most common causes of blindness in the developing world.
Community content is available under
CC-BY-SA
unless otherwise noted.