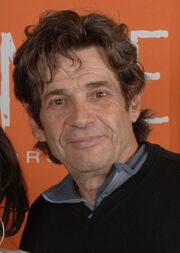 Alan Rosenberg
Biographical Information
Born
October 4, 1950
Birthplace
Passiac, NJ
Gender
Male
Years Active
1978-Present
Role
Bruce Steinerman
Season
Season 3
Episode
Whac-A-Mole
Alan Rosenberg is an American actor, best known for his portrayal of Eli Levinson on both Civil Wars and L.A. Law. On House, M.D., he portrayed Wilson's lawyer Bruce Steinerman in the Season 3 episode Whac-A-Mole.
Rosenberg fell into acting, getting into the Yale Drama School after losing most of the money his parents gave him for graduate school. There he met actress Meryl Streep, but after she left the relationship, he dropped out of Yale as well. However, he established himself as a character and voice actor and showed strength playing lawyer characters. He has had featured roles in The Last Temptation of Christ, The Revenge of Al Capone, Lucky Chances, Civil Wars, The Tommyknockers, L.A. Law, Freaky Friday, Cybill, Chicago Hope, The Guardian, Robots, and Luck.
Connections
Edit
Community content is available under
CC-BY-SA
unless otherwise noted.