Chi McBride

Biographical Information
Born
September 23, 1961
Birthplace
Chicago, Illinois
Gender
Male
Years Active
1992-Present
Role
Edward Vogler
Season
Season 1
Episode
Control, others
Kenneth "Chi" McBride (pronounced "Shy McBride") is a versatile, prolific and imposing (6'4") character actor who was born in Chicago, Illinois on September 23, 1961. In Season One, he played House's arch-nemesis Edward Vogler, the Chairman of the Board of Directors at Princeton-Plainsboro Teaching Hospital. McBride's nickname is a shortened form of his home town.  He currently stars on the series Golden Boy.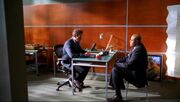 McBride was an excellent student, graduating high school at the age of 16. He came to acting late, after beginning his career as a music producer and vocalist and taking a sidetrack with a "normal" career as a billing clerk. His first credit was in the TV movie Revenge of the Nerds III: The Next Generation in 1992. However, he has appeared in several notable roles since:
Heavy Gene, the bus station janitor, on The John Larroquette Show.
As the title character of the short lived TV show The Secret Diary of Desmond Pfeiffer.
As The Chief in Eddie Griffin's Undercover Brother.
As Will Smith's boss Lt. John Bergin in I, Robot.
As Steven Harper on Boston Public.
As the Mayor on Monk
As the Reverend in "First Sunday"
As Emerson Cod in Pushing Daisies.
As Winston on Human Target
ConnectionsEdit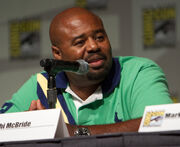 Community content is available under
CC-BY-SA
unless otherwise noted.