Daryl Sabara
Biographical Information
Born
June 14, 1992
Birthplace
Torrance, CA
Gender
Male
Years Active
1992-Present
Role
Gabriel Reilich
Season
Season 1
Episode
Cursed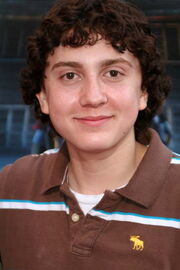 Daryl Sabara is an American actor best known for his role as Juni Cortez in the four Spy Kids movies. On House, M.D., he portrayed the Cursed patient Gabriel Reilich.
Sabara actually started his career alongside Candice Bergen as a newborn, playing Murphy Brown's baby. He started acting at the age of four and at the age of nine had his featured role in Spy Kids. Since then, he has worked in a variety of live and voice roles.
He currently is doing voice work for the series Generator Rex and has a recurring role on Weeds.
Connections
Edit
Community content is available under
CC-BY-SA
unless otherwise noted.