Ernest Griffin was the head of human resources at Princeton-Plainsboro Teaching Hospital at the beginning of Season 7 in the episode Selfish. He was portrayed by actor Sean Smith.
Cuddy insists that she and House report their relationship to human resources as soon as possible, but House tells his team and Wilson before they can get to the appointment.
Ernest is very straightforward with House and Cuddy even though House treats the whole thing like a joke, although Cuddy is similarly straightforward. Ernest does insist that they both sign documents attesting to the conditions of the hospital so the hospital can't be sued later. He also reminds Cuddy that not only can she not show favoritism to House, she also can't be overly strict with him. This leads them to believe that House will require a new supervisor.
Ernest is probably single as he is right-hander and he has no ring on his left ring finger.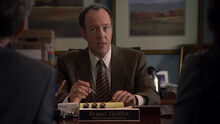 Community content is available under
CC-BY-SA
unless otherwise noted.