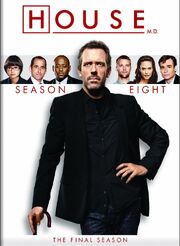 House, M.D.
Season Eight began airing on October 3, 2011 and ended May 21, 2012 which concluded the entire series. Universal has announced they will release the season on DVD and Blu-ray on August 21, 2012.
[1]
The set will include
Swan Song
as a bonus feature, as well as behind the scenes information and cast interviews.
[2]
Season 8: 2011-2012
Edit
Episode Number
Episode Name
Original Air Date
8 x 01
Twenty Vicodin
October 3, 2011
8 x 02
Transplant
October 10, 2011
8 x 03
Charity Case
October 17, 2011
8 x 04
Risky Business
October 31, 2011
8 x 05
The Confession
November 7, 2011
8 x 06
Parents
November, 14, 2011
8 x 07
Dead & Buried
November 21, 2011
8 x 08
Perils of Paranoia
November 28, 2011
8 x 09
Better Half
January 23, 2012
8 x 10
Runaways
January 30, 2012
8 x 11
Nobody's Fault
February 6, 2012
8 x 12
Chase
February 13, 2012
8 x 13
Man of the House
February 20, 2012
8 x 14
Love is Blind
March 19, 2012
(United States air date)
8 x 15
Blowing the Whistle
April 2, 2012
8 x 16
Gut Check
April 9, 2012
8 x 17
We Need the Eggs
April 16, 2012
8 x 18
Body and Soul
April 23, 2012
8 x 19
The C Word
April 30, 2012
8 x 20
Post Mortem
May 7, 2012
8 x 21
Holding On
May 14, 2012
8 x 22
Swan Song
Everybody Dies
May 21, 2012