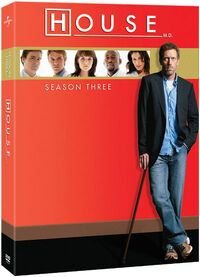 House, M.D. - Season Three was released by Universal to DVD on August 21, 2007. Its rating is listed as Not Rated.
Approx. Runtime: 17 Hrs. 30 Mins.
Contains five single-sided discs.
Aspect Ratio: 1.78:1 (anamorphic widescreen)
In addition to the 24 episodes from season three, it contains:
Alternate Take From Cane & Able: The Angry Valley Girl Version
Half-Wit Commentary with Creator/Executive Producer David Shore and Executive Producer/Director Katie Jacobs
Blooper Reel
The Making of The Jerk: Anatomy of an Episode - An inside look at the making of Episode 23.
Soundtrack Session: Hugh Laurie and The Band From TV – Join Hugh Laurie and the rest of The Band From TV as they record the Smokie song "Minnie the Moocher" for the show's soundtrack.
Open House: The Production Office – Executive Producer Katie Jacobs gives viewers a tour of the production office.
Blood, Needles, and Body Parts: The House Prop Department – An inside look at the property department.
Season 3: 2006-2007
| Episode Number | Episode Name | Original Air Date |
| --- | --- | --- |
| 3 x 01 | Meaning | September 5, 2006 |
| 3 x 02 | Cane & Able | September 12, 2006 |
| 3 x 03 | Informed Consent | September 19, 2006 |
| 3 x 04 | Lines in the Sand | September 26, 2006 |
| 3 x 05 | Fools for Love | October 31, 2006 |
| 3 x 06 | Que Será Será | November 7, 2006 |
| 3 x 07 | Son of Coma Guy | November 14, 2006 |
| 3 x 08 | Whac-A-Mole | November 21, 2006 |
| 3 x 09 | Finding Judas | November 28, 2006 |
| 3 x 10 | Merry Little Christmas | December 12, 2006 |
| 3 x 11 | Words and Deeds | January 9, 2007 |
| 3 x 12 | One Day, One Room | January 30, 2007 |
| 3 x 13 | Needle in a Haystack | February 6, 2007 |
| 3 x 14 | Insensitive | February 13, 2007 |
| 3 x 15 | Half-Wit | March 6, 2007 |
| 3 x 16 | Top Secret | March 27, 2007 |
| 3 x 17 | Fetal Position | April 3, 2007 |
| 3 x 18 | Airborne | April 10, 2007 |
| 3 x 19 | Act Your Age | April 17, 2007 |
| 3 x 20 | House Training | April 24, 2007 |
| 3 x 21 | Family | May 1 2007 |
| 3 x 22 | Resignation | May 9, 2007 |
| 3 x 23 | The Jerk | May 15, 2007 |
| 3 x 24 | Human Error | May 29, 2007 |