We're Getting Mutants in the MCU - The Loop
Play Sound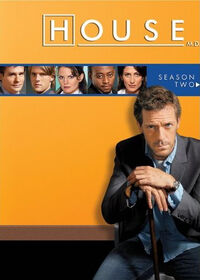 House, M.D. - Season Two was released by Universal to DVD on August 22, 2006. Its rating is listed as Not Rated.
Approx. Runtime: 17 Hrs. 24 Mins.
Contains six single-sided discs.
Aspect Ratio: 1.78:1 (anamorphic widescreen)
In addition to the 24 episodes from season two, it contains:
"An Evening With House" panel discussion at the Academy of Television Arts & Sciences with the cast and executive producers
Commentary by executive producers David Shore and Katie Jacobs on the episodes "Autopsy" and "No Reason"
Alternate takes from the episodes "Daddy's Boy" and "Sleeping Dogs Lie" with Lisa Edelstein (Cuddy) and Jennifer Morrison (Cameron) performing, like, Valley Girl style
"It Could Be Lupus..." montage of clips highlighting the show's most common diagnosis
Blooper Reel
Captions in English SDH and subtitles in Spanish
Dolby Digital 5.1 audio track
Note: Not all bonus features are subtitled.
Season 2: 2005-2006
| Episode Number | Episode Name | Original Air Date |
| --- | --- | --- |
| 2 x 01 | Acceptance | September 13, 2005 |
| 2 x 02 | Autopsy | September 20, 2005 |
| 2 x 03 | Humpty Dumpty | September 27, 2005 |
| 2 x 04 | TB or Not TB | November 1, 2005 |
| 2 x 05 | Daddy's Boy | November 8, 2005 |
| 2 x 06 | Spin | November 15, 2005 |
| 2 x 07 | Hunting | November 22, 2005 |
| 2 x 08 | The Mistake | November 29, 2005 |
| 2 x 09 | Deception | December 13, 2005 |
| 2 x 10 | Failure to Communicate | January 10, 2006 |
| 2 x 11 | Need to Know | February 7, 2006 |
| 2 x 12 | Distractions | February 14, 2006 |
| 2 x 13 | Skin Deep | February 20, 2006 |
| 2 x 14 | Sex Kills | March 7, 2006 |
| 2 x 15 | Clueless | March 28, 2006 |
| 2 x 16 | Safe | April 4, 2006 |
| 2 x 17 | All In | April 11, 2006 |
| 2 x 18 | Sleeping Dogs Lie | April 18, 2006 |
| 2 x 19 | House vs. God | April 25, 2006 |
| 2 x 20 | Euphoria (Part 1) | May 2, 2006 |
| 2 x 21 | Euphoria (Part 2) | May 3, 2006 |
| 2 x 22 | Forever | May 9, 2006 |
| 2 x 23 | Who's Your Daddy? | May 16, 2006 |
| 2 x 24 | No Reason | May 23, 2006 |