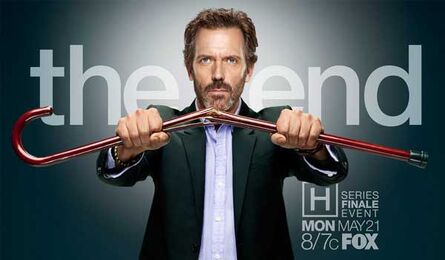 About House, M.D.
House, also known as House, M.D., was a critically-acclaimed American medical drama television series created by David Shore and executively produced by film director Bryan Singer. The Emmy and Peabody award-winning medical drama debuted on the FOX Network on November 16, 2004, and aired its last episode on May 21, 2012.
For eight years the show brought in people from around the globe, bringing intrigue and mystery in the form of unusual medical cases in a vein reminiscent of the mysteries solved by Sherlock Holmes. Furthermore, these cases were the catalyst for the discussion of philosophical and ethical issues and decisions, a lot of which were not left with a clear victor, but all of which revealed more and more of the character of each of the different doctors that comprised the team each year. In the end, while the team didn't completely understand (or appreciate) House's methods fully, the show gives a final hurrah as each of the members walks away with something they realize was the right thing to do after all. Although the mantra "Everybody Lies" is proven over and over again, the concept that "people never change, they only come up with better lies" is tested up until the last moments as the characters (and the show) drive off into an adventure left to the imagination.
Everything is challenged, nothing is sacred, and the most profound revelations of life can be found within the 172 hours of television given over the course of the eight seasons of pill-popping, dripping sarcasm, dark humor, and intelligent storytelling ever to grace the small screen of the living room (or large screen, if that may be the case, but then...everybody lies). This wiki is intended for your perusal to catch up, read, make new or more complete connections on various subject matter, or perhaps relive the funny if outrageous times given to us by actor Hugh Laurie and company.
Enjoy!
Current Featured Article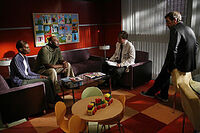 Family
Family is a third season episode of House which first aired on May 1, 2007. A bone marrow transplant to a critically ill patient is threatened when the donor, his younger brother becomes ill as well. Although the younger brother doesn't appear to be in danger from his illness, the team's techniques to diagnose him in time to help his brother bring him to the brink of death as well. When it seems the parents must choose between their sons, Foreman decides to do something that may save both of the brothers at the cost of confronting a part of himself he may not be able to live with. Meanwhile, House tries to deal with Wilson's old pet dog Hector and his habit of chewing everything in sight.
By this point in the series, we're already aware that every one of the main characters has some kind of issue with their family. In this episode, those children of dysfunctional families have to deal with a family that, at least at the beginning of the episode, only has issues to deal with that are out of their control. It's clear that everyone in Matty's family cares deeply about everyone else in the family. That's what makes their ordeal so difficult. House, in his usual display of objectivity, is able to put what feelings he may have aside to take the best course of action. Naturally, this pushes the family past the breaking point.
But at least the family that inspires the title is, at the end of the episode, back intact with everything being as normal as it could be. Matty can even go back to baseball. They once again can start caring about each other and it's that caring that got them through the ordeal. By contrast, House's insistence on approaching each and every problem without emotional context, and insisting those working with him do exactly the same, pushes them past the breaking point. By the end of the episode, Foreman has become a perfect House clone - the exact doctor that House wanted him to be because he always knew Foreman had it in him. When Foreman goes against instructions, House had nothing but praise for him. It's exactly what House would have done in the same place. Just like Matty's father is proud of his sons, House is proud of Foreman.
But while Matty's family survives because they care, House's surrogate family is destroyed because Foreman can't put aside his feeling. House failed to account for the fact Foreman not only cares about other people, but about himself. He's ready to leave and House realizes he's ready to go.
Contrast this with Chase's path, which takes longer, but has the same result and better consequences. Foreman felt he had to be House, but couldn't live with the consequences. Chase realized he couldn't be House but, once he realized that, he realized he could still be himself and be a great doctor too.
Recap
A young man is getting ready to donate bone marrow to his older brother with leukemia when all of a sudden he sneezes in front of Wilson.
House is trying to adjust to his new dog Hector, who has a habit of chewing things, including his cane.
Wilson reports to the team that the younger brother has an infection with an enlarged spleen and fever, and that they have five days to complete the bone marrow transplant, otherwise the older brother will die because his immune system is compromised. Foreman is already treating the younger brother with antibiotics, but they will take too long to work. Chase reports that the younger brother has tested negative for all the common infections. House suggests encouraging the infection so that the type of infection becomes obvious. Foreman suggests going to their home to search for an infection source.
....
Read more...
Current Featured Quote
House: "Is this hell? An eternity of people trying to convince me to live?"
Cameron: "Who says I'm here to convince you to live?"
―Cameron's hallucination appears in Everybody Dies
More quotes...
Featured Media
Featured Poll
Most clueless clinic patient ever?
See past polls...
Trivia
Played the love interest of The Hebrew Hammer Answer...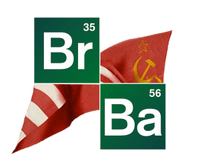 Episode lists
DVDs
We are devastated to announce the death of Skye McCole Bartusiak (Kids), apparently from the complications of epilepsy at the age of 21.
Another big milestone! Our 5,000th article! True, it's a stub, buy you can all help with that!
The lovely Amanda Leighton is our 1,000th picture file!
Be sure to visit the House Wiki in Spanish!
Now available on Facebook - House M.D. - Critical Cases!
Now available on Google Play - the House MD Wiki app!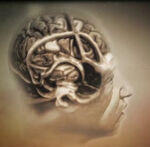 Please contribute your love and knowledge today!




Contribute
To write a new House Wiki article, enter the page title in the box below.
Useful Info
Need help?
Contact an Administrator|Help on Wikia Community
Newsreel
Loading RSS data...
Loading RSS data...
Loading RSS data...
Refresh
·
Read more...
Blogs
Create blog post
Blogs
No-one got back to me in time, so the choice is mine. Again. After flipping through a few articles, I decided to go with one of the actors who started on the series but whose career soon took off Bit…

Read more >
See more >