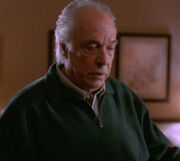 Howard Hesseman portrayed the 65 year old brucellosis patient Henry Errington who required a heart transplant in the episode Sex Kills.
Hesseman is best known for his four year stint as the laid back disc jockey Dr. Johnny Fever on WKRP in Cincinnati. However, he had a long career as an improvisational comedian prior to that role, being a founding member of the San Francisco sketch comedy group The Committee in 1963. Subsequent to WKRP, he played a teacher in Head of the Class and played the new husband of Ann Romano on One Day at a Time. He has also appeared on That 70's Show and Boston Legal. Overall, he has well over 120 film and television credits, starting with an episode of The Andy Griffith Show in 1968.
Community content is available under
CC-BY-SA
unless otherwise noted.