Jayma Mays
Biographical Information
Born
July 16, 1979
Birthplace
Grundy, VA
Gender
Female
Years Active
2004-Present
Role
Hannah
Season
Season 2
Episode
Sleeping Dogs Lie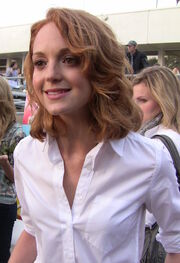 Jayma Mays is an American actress who currently appears on the Fox series Glee as Emma Pillsbury. On House, M.D., she portrayed the patient Hannah in the Season 2 episode Sleeping Dogs Lie.
When she appeared on House in 2006, she only had a few guest roles under her belt. However, her career has been on an upswing since with featured roles in Blind Dating, Epic Movie, Ugly Betty, Get Smart's Bruce and Lloyd Out of Control, Paul Blart: Mall Cop and, most recently, The Smurfs.
Connections
Edit
Community content is available under
CC-BY-SA
unless otherwise noted.