Jennifer Grey
Biographical Information
Born
March 26, 1960
Birthplace
New York City, NY
Gender
Female
Years Active
1984-Present
Role
Abbey
Season
Season 7
Episode
Unplanned Parenthood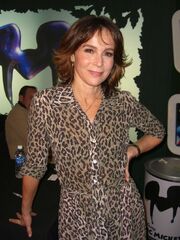 Jennifer Elise-Alice Grey is an American actress best known for her appearances in Dirty Dancing and Ferris Beuller's Day Off and for winning season 11 of Dancing With The Stars. On House, M.D., she appeared in Season 7 as Abbey, the mother of Kayla, a sick newborn. Grey is the daughter of Joel Grey, who appeared in the episode Informed Consent as Ezra Powell.
Connections
Edit
Community content is available under
CC-BY-SA
unless otherwise noted.