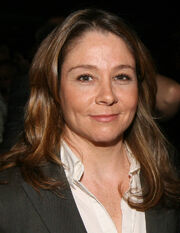 Megan Elizabeth Follows is a Canadian born American actress. She is a household name in her native Canada for playing Canadian icon Anne Shirley in Anne of Green Gables. On House, M.D., she portrayed the fake Jennifer Williams in the Season 7 episode Changes.
Follows started acting in Canada at the age of 10 and by the age of sixteen had moved to Hollywood to co-star in Martin Mull's Domestic Life. However, when work in the U.S. dried up, she returned to Canada and devoted her efforts to playing Anne Shirley, even though she was by then five years too old for the part. However, she got the part and the resulting television movie was one of the most watched television programs in Canadian history and was widely distributed internationally. The sequel two years later allowed her to play the same character at closer to her real age and was just as popular.
She has also had featured roles in Matt & Jenny, Hangin' In, Silver Bullet, Inherit the Wind, Termini Station, Romeo & Juliet, Second Chances, Anne of Green Gables: The Continuing Story, Strong Medicine, What Katy Did, Booky Makes Her Mark, Breakfast with Scot, Booky's Crush, Heartland and World Without End.
Connections
Edit
Community content is available under
CC-BY-SA
unless otherwise noted.