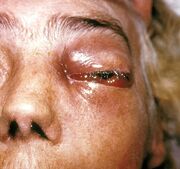 Mucormycosis
is a rare but often fatal
fungal
infection caused by a group of fungi known as the Mucorales. Although once thought to be identical to
zygomycosis
, the two diseases are actually caused by different classes of fungi and are now distinguished. It usually infects the
sinuses
,
brain
and
lungs
, but can affect other parts of the body. It is particularly dangerous to those who are
immunocompromised
or have high
blood sugar
levels and the
mortality rate
among those with
AIDS
is close to 100%.
Diagnosis is difficult as the symptoms can be subtle at first, but when they proceed to serious conditions such as nasal discharge and necrosis, these are usually blamed on other conditions. Swabs are generally inconclusive and the only definitive test is a biopsy of affected tissue.
If mucormycosis is even suspected, Amphotericin B should be started despite the risk of side effects. Waiting for confirmation usually results in the death of the patient. In addition, the disease usually forms a fungal ball which should be removed surgically. Even patients who recover must be monitored carefully for signs of re-occurrence.
If the infection only affects the sinuses, the prognosis is about 70% survival. However, once it spreads to other organs, the mortality rate rises sharply and the survival rate is only about 30%.
Community content is available under
CC-BY-SA
unless otherwise noted.