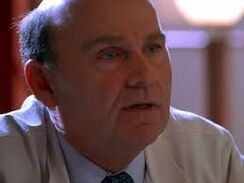 Ron Perkins is an American character actor. He has established himself on House, M.D. as the all-purpose surgeon/board member/committee member Dr. Ron Simpson, who is quickly becoming one of the show's most popular recurring characters. His role is expected to expand during Season 8.
Perkins has been working regularly since his appearance as a patient in Endless Love in 1981. However, he has spent a good part of his career playing doctors in movies such as Married With Children, Felicity, Spider-Man, Pandemic, Heroes, and the upcoming Dark Star Hollow. Prior to House, M.D., Perkins had a regular recurring role on Roseanne.
Community content is available under
CC-BY-SA
unless otherwise noted.